Welcome to the website of Great Alne Parish Council.
The Parish Boundary of Great Alne covers an area of 1764 acres and had a total population of 587 at the time of the 2001 Census. Presently there are 232 households in the Parish some of which are in a Conservation Area. The other Parish's that border Great Alne are Kinwarton, Haselor, Aston Cantlow, Coughton, Spernal, and the combined parish of Morton Bagot and Oldberrow.
If you need practical help during the COVID-19 crisis please contact Alcester Community Resilience: Helpline: 07707 598379 or Email: alcester.response@outlook.com
For more information, please visit our COVID-19 page or click HERE.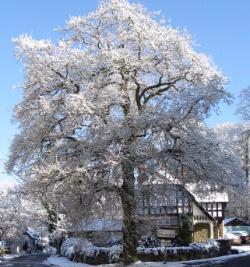 Great Alne Parish Council actively contributes to the community of the parish and holds meetings every two months at Great Alne Primary School on a Wednesday evening at 7pm unless indicated otherwise. Dates for 2020 meetings are listed below. Everyone is welcome to attend.
15 January
18 March - CANCELLED
16 May (Parish Assembly- Memorial Hall) - CANCELLED
20 May (Annual meeting & Ordinary meeting 6.30pm start) - CANCELLED
7 July via Zoom
16 September via Zoom
18 November via Zoom - MEETING HAD TO BE CANCELLED AND IS RESCHEDULED FOR 9TH DECEMBER 2020.
9 December via Zoom - Parish Assembly (6.15-7.00pm) followed by the bi-monthly meeting at 7.00pm.
NOTICE: The date of the next meeting of Great Alne Parish Council is 9th December 2020. Two meetings will take place - see details below
Great Alne Parish Council Parish Assembly - 9th December 2020 - 6.15-7.00pm via Zoom.
All Parish and Town Councils throughout England are required by law to hold an Annual Parish Meeting (which we call the Parish Assembly to try and avoid confusion!).The purpose of the meeting is to provide an opportunity for the Parish Council and other local organisations to explain what they have been doing over the last year.The meeting also enables village residents to have their say on anything they consider is important to the people of the parish.This event was originally due to take place on the 16th May but was cancelled due to Covid-19 lockdown restrictions. We would be delighted if any local groups would like to talk at the meeting. Please contact greatalne.parishcouncil@googlemail.com by Friday 4th December if you would like to be involved.
Great Alne Parish Council Meeting - 9th December 2020 - 7.00pm onwards (rescheduled date following the cancellation of 16th November meeting) An update was issued prior to the November meeting and can be found on the Agendas and Minutes page. This will be updated and circulated again, along with a revised agenda by Friday 4th December.You are very welcome to attend both or just one of the meetings. If the Parish Assembly finishes early, the bi-monthly Parish Council meeting will still not start until 7.00pm. These meetings will take place via Zoom. To get the link to register for the meeting, please email: greatalne.parishcouncil@googlemail.com.
Joining details are below:
Please email the clerk at greatalne.parishcouncil@googlemail.com to get the link for the meeting. We have added additional security measures to ensure only residents/people with a genuine interest can attend.
---
Chairman - Mr Lynn Bowring, The Old Cottage, Henley Road, Great Alne
Vice Chairman - Mr Paul Clark - 66 School Road, Great Alne
Mr Ian Millard - West Meadow Barn, Manor Court, Henley Road, Great Alne
Mrs Marie Holding - 10 Nightingale Close, Great Alne
Ms Hazel Mainwaring - Hill View, Burford Lane, Shelfield
County Councillor:
Mr Clive Rickhards- 9 Albury Road, Studley
District Councillor:
Ms Gill Forman - 9 Winchcombe Road, Alcester
Clerk:
Joanne Bullingham, Oakfield Cottage, Stratford Rd, Wootton Wawen, Henley-in-Arden B95 6DF
T: 07833 790375